Talia Laffon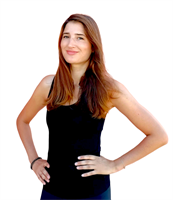 EN

Born in Paris, France, Talia has been an avid mover since childhood. She practised ballet for eight years during childhood and then moved into more cardio-focused training in her twenties, practising long-distance running and boxing.
The movement supports the body and mind in mysterious ways, and it was during pregnancy, Talia discovered the beauty of low-impact movement through Pilates.
She realized how small controlled movement allows a deep mind-body connection resulting in increased strength and overall well-being.
In 2022, she joined Kelly McKinnon's Teacher Training program at Corpus Studios™ to become a fully certified comprehensive Corpus Pilates teacher while finishing a Health Coach training program at the Institute for Integrative Nutrition.
Talia has a holistic approach to health and aims to help clients gain body awareness and reach functional health by strengthening both body and mind in a playful yet challenging way!
Her passion for teaching comes across in every class, which can be offered in English, French or Italian.
FR
Née à Paris, en France, Talia est une passionnée du mouvement depuis son enfance. Elle a pratiqué le ballet pendant huit ans au cours de son enfance, puis s'est tournée vers un entraînement plus axé sur le cardio à l'âge de vingt ans, en pratiquant la course de fond et la boxe.
Le mouvement soutient le corps et l'esprit de façon mystérieuse, et c'est pendant sa grossesse que Talia a découvert la beauté des mouvements à faible impact grâce au Pilates.
Elle a réalisé comment les petits mouvements contrôlés permettent une connexion profonde entre l'esprit et le corps, ce qui entraîne une force accrue et un bien-être général.
En 2022, elle a rejoint le programme de formation des enseignants de Kelly McKinnon à Corpus Studios™ pour devenir une enseignante Corpus Pilates complète et certifiée, tout en terminant un programme de formation de coach de santé à l'Institute for Integrative Nutrition.
Talia a une approche holistique de la santé et vise à aider ses clients à prendre conscience de leur corps et à atteindre une santé fonctionnelle en renforçant à la fois le corps et l'esprit d'une manière ludique mais stimulante!
Sa passion pour l'enseignement transparaît dans chaque cours, qui peut être proposé en anglais, en français ou en italien.
See Talia Laffon's schedule