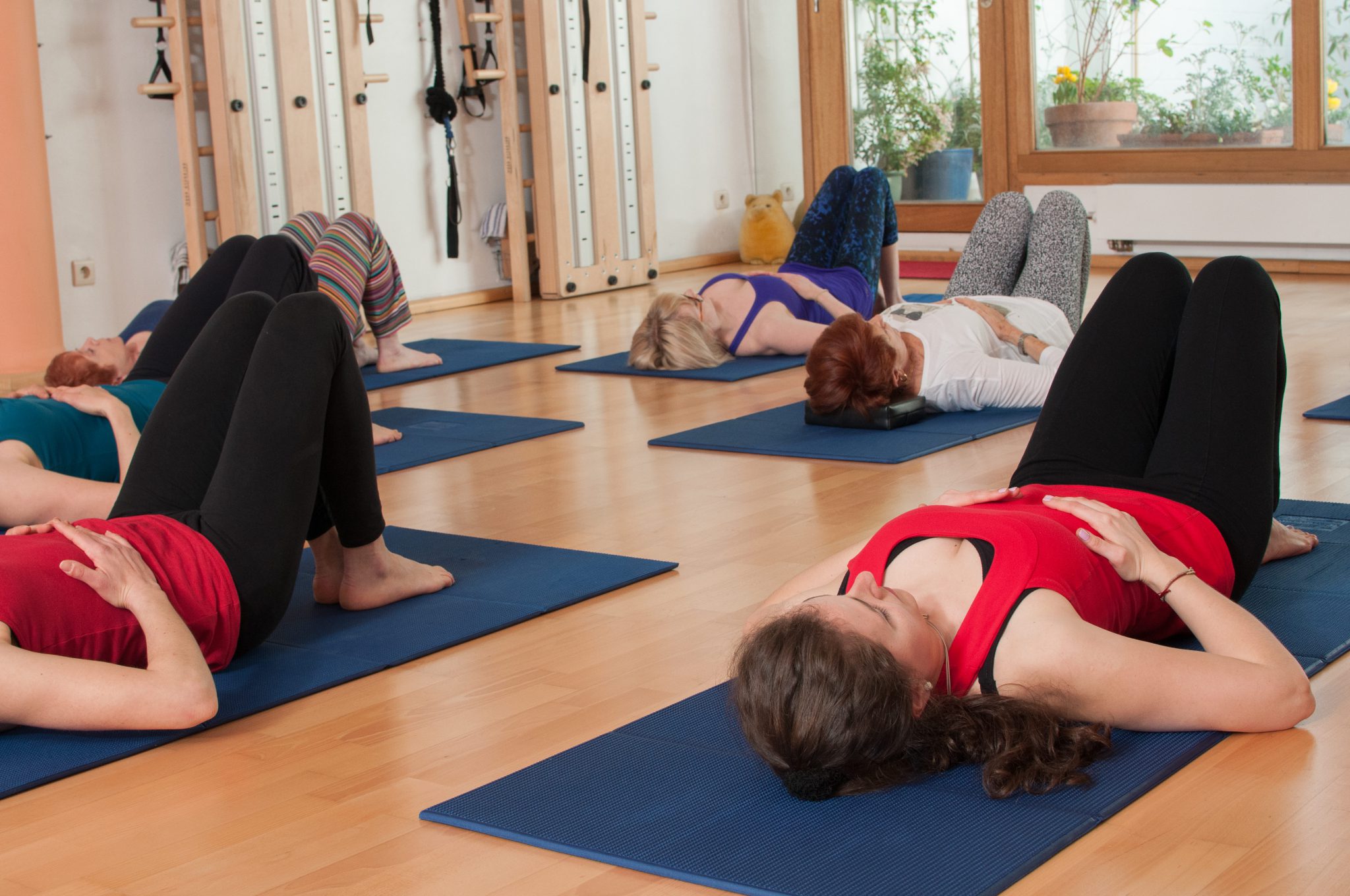 About Corpus Studios™
Corpus studios™ provides the highest quality Pilates and GYROTONIC® classes and teacher trainings, the most up-to-date techniques, and the most passionate and professional trainers to help you reach your full potential.
Our Studios
Join us in one of our two studios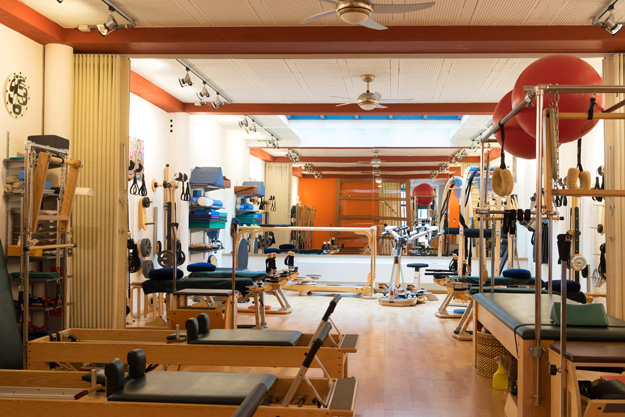 Borrens Studio
Large, bright, fully equipped studio with a vast range of apparatus and equipment:
10 x Reformers; 1 Cadillac,10 Towers; 18 Chairs; 16 Arc Barrels; 2 Ladder Barrels, 4 Gyrotonic Pullet Towers, 1 Archway, 1 Jumping Stretching Board, 1 Gyrotoner, 8 Corealign units; 11 Bodhi Suspension systems; Pilates Baby Chair; Versa Climber;
Spinning Bikes; Keiser Infinity Hydraulic Strength machine; Bosu; and small equipment such as Foam Rollers, Elastics, Balls, Power Circles.
Team of fully-trained, multilingual, professional teachers ready to design programs especially for you!
Daily collective and group classes, seven days per week
Massage and Osteopathy services
Showers and Changing rooms
Reception Service
Floral sun terraces
Operates strict hygiene protocol and ventilation policy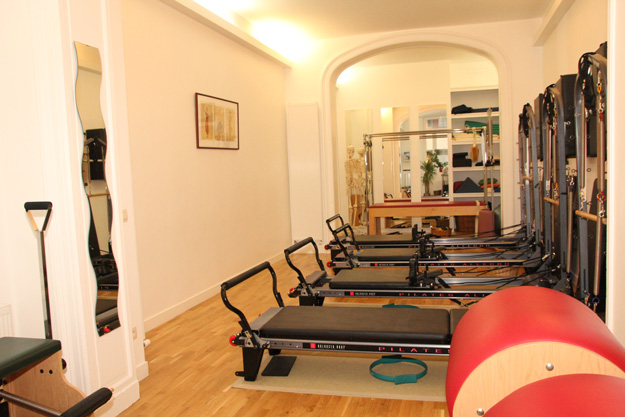 Caroly Studio
Fully equipped studio in the heart of the EU district,
Private classes benefit from a full range of Pilates Studio Apparatus and equipment, 4 Reformer/Towers; 1 Cadillac; 4 baby arches; 2 ladder Barrels; 1 Corealign; Spinning Bike; and small equipment such as Foam Rollers, Elastics, Balls, Power Circles.
A small team of fully-trained, multilingual, professional teachers ready to design programs especially for you!
Regular group Reformer and Tower/Chair classes (4 people, max)
Massage and Osteopathy services
Showers and Changing rooms
Operates strict hygiene protocol and ventilation policy
Reasons to join Corpus Studios
Fully Equipped Studios
Two beautifully maintained, fully equipped studios with a vast range of apparatus and equipment. Strict hygiene protocol; all apparatus and equipment cleaned after us.
Wide Choice of Classes
Wide choice of collective and group classes, seven days a week – over 35 classes per week to choose from Classes targeted to your needs; organized by level of experience to meet the different needs of beginners and long-standing practitioners.
Special Populations
Classes for special needs: Seniors, Rehabilitative, all levels of condition, Sports enhancement…
Precision
Small groups to guarantee safety, supervision, and correction – become part of our community.
Qualified and Passionate
Our teams are fully qualified, passionate, multilingual teachers working alongside our health professionals offering Osteopathy, Massage and Rehabilitative treatments.
Promotions
Regular promotional discounts
If you are willing to have a quality Pilates in a friendly environment, this is the place to be.
I have been a huge fan of this studio for 10 years and never had a better quality of class elsewhere.
My needs are listened, my errors are corrected, I am never bored and there are a big diversity of activities to do.
Try Corpus studios and, I guarantee, you will never want to change to another place.
Corpus studios teachers training was an amazing experience for me. This is an extensive and very serious training
embracing all aspects needed to become a real Pilates trainer (anatomy, exercises, special cases, PMP).
It is not only about learning exercises, it is rather to understand the human body, how it moves, how you can help people to
feel better and this makes a real difference. It is more than worth it for all the knowledge and good vibes you get there.
Have to say that I appreciated also every hour I spent in your Studio. It was very helpful and enjoyable,
your instructors and employees are the Best! I will have a hard time to find something similar.
I just wanted to say Thank-you! I am a great fan of the way the mat work is presented… there is
nothing like this in the UK…from what I've come across, the exercise way is a lot more gentle and
relaxing and I like the more powerful approach…having compared notes with others I consider
Kelly's' approach akin to yoga as a discipline rather than a drop in class as it reminds me of the way
ballet is taught, as a build up to produce a controlled result and not a quick 'fix'… I am a great admirer
of this concept and approach…..I am definitely singing your praises to anyone who will listen!
I consider myself a wounded fighter. I practised too much and not always in a good way martial arts in my youth.
Daily lower back pain was the result. I was able to reduce the problems , with a lot of re-education, but couldn't sport anymore.
Until the day I entered the Corpus studio's. The initiation I received in Pilates was a real eye-opener. I really went for it, was exhausted
after the class but instead of having back problems, my back was "strangely" stable and stayed that way for a few days.
Now, three years later, my back is stable, yet flexible . Of course, my injury is still there, it just isn't handicapping my life anymore.
Pilates' focus on the powerhouse and consciousness of movement resembles basic principles of the martial arts.
I never understood why so many women do Pilates, it's definitely masculine.
If with its strong mostly linear movements Pilates resembles karate , Gyrotonic and Gyrokinesis resemble more aikido.
Circular movements, spirals and lemniscates (figure-eights) are the basic movement patterns of both disciplines and … of life.
After a scoliosis operation, almost all the muscles along my spine became rather weak.
Back pain was something normal. Doctors kept telling me for years that I should work on building up back and abdominal muscles.
But they never said how to do that and how to achieve it, given that I cannot bend the spine anymore.
After a slipped disk a friend of mine recommended trying Pilates. For over two years I am now working out regularly
and – to my surprise – meanwhile, I can feel that there are muscles again where there weren't any for over ten years.
I feel certain stability that wasn't there before, much more aligned, upright.
Especially the concept of a thought "centerline" is a great thing for me.
Besides the evidence that I feel differently and so much stronger than before, it is its way of focusing,
concentrating and controlling precise movements that make Pilates so interesting for me.
A message from Kelly McKinnon
"Given the optimal conditions, the body has the capacity to self-regulate and self-heal.
We must consider structure and function inseparable and incorporate the interconnection of
mind, body and spirit".
Paraphrased from the fundamentals of Andrew Taylor Still,
DO, founder of osteopathy and osteopathic medicine.
The current Health Care System is unsustainable. Long term prevention and investment in your health are currently non-reimbursable financially but 100% reimbursable to you as you age healthier with less incidence of chronic disease. Personal accountability must drive us into the future of health and fitness.
The future of health care will rely more heavily on the "sustainability" of each individual. Maintaining health is an investment that needs to be realized independently and budgeted financially and with a commitment to using a good percentage of our valuable time towards preserving a healthy lifestyle. We need to incorporate exercise, nutrition and lifestyle choices.
There have been several meta-analyses studies on mental health that strongly support the positive effects of physical exercise, and three to four times of activity a week proves to be very effective in improving mental and physical health.
At Corpus Studios, we meet your desire to make behavioural changes to a healthy lifestyle with disease prevention through exercise. We work with you to increase your ability to repress chronic disease through classes that improve your health and wellbeing. Stronger muscles, a more balanced nervous system, a more efficient respiratory capacity, and a better cognitive ability through regular exercise enhance and maintain efficient general systemic and mental health.
At Corpus studios, we service your needs through intelligent exercise with a desire to complement every person's lifestyle. The instructors, massage therapist, osteopaths, and support staff are empathetic and communicate and listen openly and supportively. The team are well educated and sympathetic individuals who want to help you feel the best you can. We offer the best service possible to help you reach your goals. We endeavour to inspire you to feel better, enhance your sport, improve daily living habits and deal with life stressors.
Corpus Studios offers several movement modalities to challenge and stimulate every individual to move in as many planes, directions, tempos and rhythms as possible. Men, women, teenagers, and older adults with weight difficulties, rehabilitation needs, cognitive challenges, and chronic diseases are many issues of past and current clients and patients of Corpus Studios. Some team members have medical backgrounds, some specialized movement accreditations, and all have a drive and passion for their work.
There are demanding higher-level classes for the very healthy individual and less intensive courses for those looking to maintain mobility and stability. Should you require a very individual approach, the personal trainers and coaches can work with you slowly and progressively towards your goals. We take our responsibility to meet your demands thoughtfully and consciously and are here for you.
Corpus Studios is a relaxed, friendly and fun environment that contributes to social interaction, mental wellbeing, and physical enhancement.
Move for today, tomorrow and forever.
Move it till you lose it.
With smiles and regards,
Kelly McKinnon (owner and director of Corpus Studios)