Maud Dobbelaere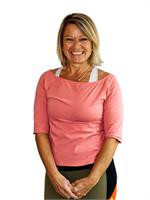 ENG
Maud, a Belgian native, chose Brussels as a home base for 30 years while travelling the world as a flight attendant. Born into a family where staying fit and healthy through movement is a way of life, Maud used much of her free time to exercise as a mechanism against jet lag, weight gain and fatigue.
Maud has always valued making a difference in people's lives and wants to create an even more significant impact on them by assisting them in improving their quality of life through movement. Twenty-five years ago, she discovered Pilates with her mother at Corpus Studios with instructor Kelly McKinnon. Now at 50, she is thinking of swapping paths from her fondness for flying to her other love Pilates.
Since 2020 she has been in the Instructor Training Program at Corpus Studios, first completing all levels of the Pilates Mat Program and now working on completing her Pilates Comprehensive Program incorporating all the equipment.
Her life's motto is: 'movement is the best medicine, as she descends from a line of women who are living proof.
FRFR
Maud, d'origine belge, a choisi Bruxelles comme port d'attache pendant 30 ans tout en parcourant le monde en tant qu'hôtesse de l'air. Née dans une famille où rester en forme et en bonne santé par le mouvement est un mode de vie, Maud consacrait une grande partie de son temps libre à faire de l'exercice pour lutter contre le décalage horaire, la prise de poids et la fatigue.
Maud a toujours apprécié le fait de faire une différence dans la vie des gens et souhaite créer un impact encore plus significatif sur eux en les aidant à améliorer leur qualité de vie par le mouvement. Il y a vingt-cinq ans, elle a découvert le Pilates avec sa mère aux Corpus Studios avec l'instructeur Kelly McKinnon. Aujourd'hui, à 50 ans, elle envisage de troquer les chemins de son affection pour l'avion contre son autre amour le Pilates.
Depuis 2020, elle suit le programme de formation d'instructeurs aux Corpus Studios, en terminant d'abord tous les niveaux du programme Pilates Mat et en travaillant maintenant à terminer son programme complet de Pilates intégrant tous les équipements.
La devise de sa vie est la suivante : Le mouvement est le meilleur remède, car elle descend d'une lignée de femmes qui en sont la preuve vivante.
NL
Maud, van Belgische afkomst, koos Brussel als thuisbasis gedurende 30 jaar terwijl ze de wereld rondreisde als stewardess. Geboren in een familie waar fit en gezond blijven door beweging een manier van leven is, gebruikte Maud veel van haar vrije tijd om te sporten als een mechanisme tegen jetlag, gewichtstoename en vermoeidheid.
Maud heeft het altijd belangrijk gevonden om een verschil te maken in het leven van mensen en wil een nog grotere impact op hen hebben door hen te helpen hun kwaliteit van leven te verbeteren door middel van beweging. Vijfentwintig jaar geleden ontdekte ze Pilates met haar moeder in de Corpus Studios bij instructrice Kelly McKinnon. Nu ze 50 is, denkt ze erover om haar voorliefde voor vliegen in te ruilen voor haar andere liefde Pilates.
Sinds 2020 volgt ze het Instructor Training Program bij Corpus Studios. Eerst voltooide ze alle niveaus van het Pilates Mat Program en nu werkt ze aan het voltooien van haar Pilates Comprehensive Program waarin alle apparatuur is geïntegreerd.
Haar levensmotto is: Beweging is het beste medicijn, want ze stamt af van een geslacht van vrouwen die het levende bewijs zijn.
See Maud Dobbelaere's schedule