Maria Lampropoulou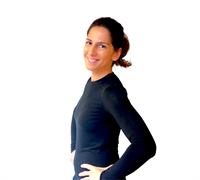 - EN -
Maria Lampropoulou
With a background in paramedical sciences keen interest in functional
movement, exercise and nutrition, I deepen my knowledge of Pilates while
exploring it as a tool for recovery, healing and improving healthspan. My desire to help others and my professional experience as a nurse and pharmacist give me the means to inspect and detect the human body's needs.
- FR -
Maria Lampropoulou
Avec une formation en sciences paramédicales et un intérêt marqué pour les mouvements fonctionnel, les exercices et la nutrition, j'approfondis mes connaissances de la méthode Pilates tout en tout en l'explorant comme un outil de récupération, de guérison et d'amélioration de l'espérance de vie. Mon désir d'aider les autres et mon expérience professionnelle en tant qu'infirmière et pharmacienne me donnent les moyens d'inspecter et de détecter les besoins du corps humain.
See Maria Lampropoulou's schedule