Isabelle Germonpre (PLT)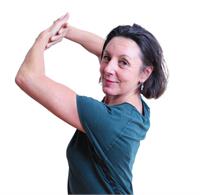 Pilates Teacher
Isabelle is perfect tri-language, she can teach in French, Dutch and English. As a teacher, she likes to listen to peoples requests, but can definitely work to the physical needs of the person depending on what he/she is doing in her life and their physical issues are. For healthy people without any physical issues, she can give you an absolutely hard workout, nevertheless, she can also give you a beginners class with a detailed explanation of the basics. Before becoming a Pilates teacher, Isabelle studied ballet at the Royal Ballet School in Antwerp. She performed professionally at the Royal Ballet of Flanders for 6 years, where she was a soloist for 4 years. Following this experience, Isabelle moved to France and worked at the Ballet Du Rhin. After 3 years, she returned to Brussels and worked with many different contemporary choreographers.
Since 2003, Isabelle has been teaching dance. After experiencing pain in her body from years of dancing, in 2010 she started her Pilates Teacher Training at Corpus Studios™ with Kelly and hasn't looked back since. Isabelle has completed the Full Comprehensive Corpus Pilates® Programme and is teaching Pilates since then. She also studied dance pedagogy at Highschool from 2015 till 2019. She is since then a certified dance pedagogy teacher. Lately, she attended the Gyrokinesis® foundation and level 1 course and teaches this movement method.
She likes to bring people to a level of satisfaction that makes them stronger, straighter, lengthen and more balanced and make them feel better in their daily lives. Her stretch class will give you a sensation of well-being through the stretch exercises integrated with pilates, but also has an accent with the stretch on the fascias.
Isabelle est parfaitement trilingue ! Elle est en mesure de vous faire cours en français, en anglais et en flamand. En tant que prof, elle sera capable de vous écouter et de vous faire travailler sur chacun de vos besoins personnels en fonction de vos problèmes physiques. Si par bonheur vous n'avez aucun problème physique, elle pourra vous donner des séances intenses ! Néanmoins si vous débutez, elle sera tout à fait capable de vous enseigner les basics du pilates.
Avant de devenir prof de pilates, Isabelle à étudier le ballet à la Royal Ballet School d'Anvers. Pendant 6ans, elle a performé pour le Royal Ballet de Flandres, où elle a été soliste pendant 4ans. Après cette grande expérience, Isabelle est partie en France où elle a travaillé pour le Ballet du Rhin. Après 3 ans, elle rentré dans son pays natal et c'est installé à Bruxelles où elle a travaillé avec plusieurs chorégraphes de danse contemporaine.
Depuis 2003, Isabelle enseigne la danse. En 2010, après avoir expérimenter des douleurs corporelles due à la pratique de la danse, elle prépare son diplôme de professeure de pilâtes au Corpus StudiosTM avec Kelly. Et depuis, elle n'est pas revenue à autre chose ! Elle a complété sa formation de professeur de pilâtes et à également étudier la pédagogie de la danse. Elle est donc Une prof de danse certifié en plus de sa formation au pilâtes. Dernièrement, elle a participé à la fondation de Gyrokinésis et au cours de niveau 1 et peut vous apprendre cette méthode.
Elle aime amener ses clients à un niveau de satisfaction qui les rendent plus forts, plus droits et plus équilibré, ce qui leur permet de mieux se sentir dans leur vie de tous les jours. Sa classe d'étirement va vous donner une sensation de bien-être à travers ces exercices d'étirement intégrés au pilâtes.
See Isabelle Germonpre (PLT)'s schedule