Britta Wenn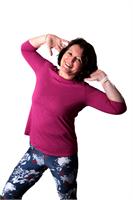 Britta Wenn, is a fully certified Comprehensive Pilates Instructor, recognized by the European Register of Exercise Professionals (EREPS). Beginning her full-time career in personal and functional training in 2009, she got into her Pilates teacher pathway in 2011 with the teacher training at Corpus Studios. Through years of continuous study with Europe's leading Pilates organisations and her strong commitment to a healthy life-style, Britta has developed a refined understanding of what it means to be have a balanced, functionally fit, intelligent body.
Britta's personal experience of the benefits of Pilates inspired her to design individual health and exercise programmes and to help clients with chronic conditions such as spinal asymmetries, low back pain, osteoporosis, and pregnancy (post-and prenatal).. As an experienced, certified pilates teacher, Britta have additionally undertaken extensive training exclusively related to low back pain to become a BackCare Professional, trained to help people with non-specific low back pain. Britta's goal as a Pilates teacher is to empower, educate and inspire others to live more fulfilling and balanced lives, with regard to their personal needs and goals. She believes in teaching with positivity and encouragement and enjoys working with clients from all walks of life.
--------------------------------------------
Britta Wenn, est une professeure de Pilates entièrement certifié, reconnu par le Registre Européen des Professionnels de l'Exercice (EREPS). Elle a commencé sa carrière à temps plein dans le domaine de l'entraînement personnel et fonctionnel en 2009, et s'est lancée dans la voie de l'enseignement de la méthode Pilates en 2011 avec la formation de professeur de Corpus Studios. Grâce à des années de fromation continue avec les plus grandes organisations de Pilates en Europe et à son engagement fort en faveur d'un mode de vie sain, Britta a développé une compréhension pointue de ce que signifie avoir un corps équilibré, fonctionnel et efficace.
Son expérience personnelle des bienfaits du Pilates l'a inspirée à concevoir des programmes d'exercices afin d'aider les clients souffrant de maladies chroniques telles que les asymétries vertébrales, les lombalgies, l'ostéoporose et d'accompagner les femmes enceintes (en pré et post-natal). En tant que professeur de Pilates expérimenté et certifié, Britta a également suivi une formation approfondie portant exclusivement sur les lombalgies pour devenir une professionnelle du BackCare, c'est-à-dire formée pour aider les personnes souffrant des lombalgies non-spécifique. L'objectif de Britta en tant que professeur de Pilate est de dynamiser, d'instruire et d'inspirer les autres à vivre une vie plus épanouissante et équilibrée, en tenant compte de leurs besoins et objectifs personnels. Elle croit en l'enseignement positif et encourageant et aime travailler avec des clients de tous horizons.
See Britta Wenn's schedule