Anna Lombardi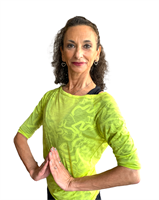 Gyrotonic®, Gyrokinesis® & Pilates Teacher
Anna was attracted to movement at a young age, began ballet at seven, and continued to work as a professional dancer in several European ballet companies for twenty-odd years afterwards. In the eighties, during the onset of Gyrotonic in Europe, Anna was fortunate to learn the method and became a Gyrotonic trainer in 2003. In 2007 thanks to Master Pilates Trainer Kelly McKinnon, she discovered and fell in love with the Pilates system of movement. Anna completed the Corpus Pilates Comprehensive Programme. From the Upledger Institute in Cranio Sacral Therapy, Anna received CTS1 and CTS2 certifications.
Anna brings extensive knowledge to her teaching from extensive professional experience as an instructor in several movement methods and her work as a highly trained dancer. From a few significant injuries obtained during her dance career, Anna understands intrinsically how to help others by breaking through the injury cycle. Her goal is to reseat the body with a holistic approach, to feel at home in her body again.FR
Anna a été attirée par le mouvement à un jeune âge, a débuté dans le ballet à 7 ans, et a continué à travailler comme danseuse professionnelle dans plusieurs compagnies de ballet européennes pendant vingt ans plus tard. Dans les années 80, lors du début du Gyrotonic en Europe, Anna a eu la chance d'apprendre la méthode et est devenue formatrice en Gyrotonic en 2003. En 2007, grâce au Master Pilates Trainer Kelly McKinnon, elle découvre et tombe amoureuse du système de mouvement de Pilates. Anna a terminé le programme complet du Corpus Pilates. Depuis l'Institut Upledger de Cranio Sacral Therapy, Anna a reçu les certifications CTS1 et CTS2.
Anna apporte une connaissance approfondie de son enseignement grâce à une expérience professionnelle étendue en tant qu'instructrice dans plusieurs méthodes de déplacement et son travail en tant que danseuse hautement qualifiée. A partir de quelques blessures importantes obtenues durant sa carrière de danse, Anna comprend de manière intrinsèque comment aider les autres en cassant le cycle des blessures. Son but est de replacer le corps dans une démarche globale, de se sentir à nouveau à la maison dans son corps.
See Anna Lombardi's schedule